CrowdSourcing our Logo
Gambrinous is something we are running in our free time, so we were paying for all business setup costs out of our own pockets. Our budget didn't stretch to traditional design agencies, so we were forced to seek out an alternative route of getting design work done. We eventually decided to try a CrowdSourcing site called crowdSPRING.
The concept is quite simple. You post a project on the site with a brief and a set budget, and based on that information, designers will contribute designs which you can rate and provide feedback on. Ultimately, you pick one clear winner and they are awarded the full budget. It is possible to add second and third place prizes, but we decided against this.
The Budget
Having researched projects on crowdSPRING, we decided that $300 was enough of a reward to tempt designers of high enough quality to submit designs to our project. When starting a project, you pay the full budget up-front, plus a 15% commission. The site ultimately acts as an escrow service between you and the winning designer.
This has one major benefit for anyone hoping to submit designs to a project. They know that you have already paid the cash for the project, so they don't have to worry about not getting paid at the end of the day; the cash is safe.
The Brief
We wrote the brief, which proved to be quite open in the end. This was mainly because we were open to any creative idea, and didn't have any set ideas ourselves as to how the logo should look. I was slightly concerned that this may pose a problem for designers for a couple of reasons:
Since we were unsure of what we wanted, designers might be reluctant to submit designs without any idea of whether they would be on the right path or not
The word Gambrinous is quite ambiguous, so it really wouldn't have pushed the creative process along.
Here is the brief:
Gambrinous is a game development company and we are looking for a logo design. The logo will be used as the basis for the branding of our website, but will also appear stand-alone in splash screens for games that we develop.

We really don't have anything specific in mind, I know this can be both a blessing and a curse, but being a game development company, we would generally like something that's a bit edgy and cool. It would ideally include a clever illustration or incorporate a symbol of some sort into the name. We would even be open to a symbol representing the whole name (like the Half Life 2 logo for example).

If you want to submit some early unfinished concepts we can give you some pointers or let you know if you heading in the right direction.
The Final Result
As it turned out, I had no reason to be concerned. We recieved 91 entries to the project, roughly 10 of which were considered for the final logo. Both myself and Colm were pleased with the quality of the work submitted and we definitely had a tough time deciding on the winner.
Here are the four designs that made it to the final round: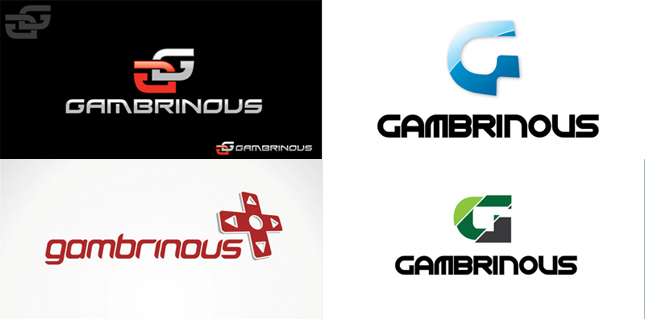 After sitting on these designs for a few days and asking friends and colleagues for their opinions on the logos, we eventually settled for the logo in the top left of the image above. The winning design is a well balanced logo, that looks a little different. The interlocking G design is also something that works well in the logo itself and also stand-alone as a distinctive design icon.
You can view the fully completed project and all the entries on the crowdSpring website.

Thanks for reading! Now check out

Guild of Dungeoneering

, a game I'm making where you build the dungeon instead of controlling the hero! \o/

Comments are currently closed on this post.